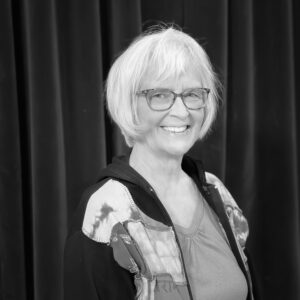 MUSIC CREDITS WITH PTP: The 25th Annual Putnam County Spelling Bee (sax & flute), Young Frankenstein (sax & flute)
MUSIC CREDITS ELSEWHERE: Plays sax in Valley Winds Big Band and Concert Band.  Flute in the Poco Rit. Ensemble.
OF INTEREST: Cathy has played flute for over 60 years, and taught herself the sax about 20 years ago, although for the first month played the sax with the mouthpiece upside down (which wasn't easy). She was a nurse for a gazillion years, most recently in Banff and Canmore ER's.