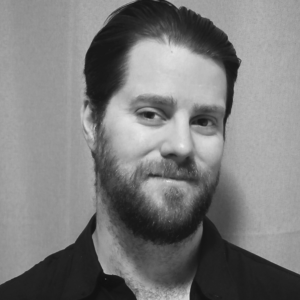 ACTOR CREDITS WITH PTP: Loose Knit, The Curious Incident of the Dog in the Night-time, A Midsummer Nights Dream (CSTF), Robin Hood: Prince of Outlaws (CSTF)
ACTOR CREDITS ELSEWHERE: Its A Wonderful Life: A Live Radio Play (Theatre Canmore), A Christmas Carol: A Live Radio Play (Theatre Canmore), The Zoo Story, Urinetown: The Musical, Bat Boy: The Musical, Glengarry Glen Ross, Pippin.
OF INTEREST: Since his first wobbly-kneed performance singing in his third grade talent show, Tyler has been acting out (and up) whenever he can. He is thrilled to once again be joining PTP and the joyously talented individuals it comprises! He regularly gets to waggle puppets, play his guitar and ukulele, and even flex his Education Degree while working with his talented wife, Tangle, in their troupe, Entangled Puppetry. Tyler is extremely privileged to live and work in the Bow Valley.