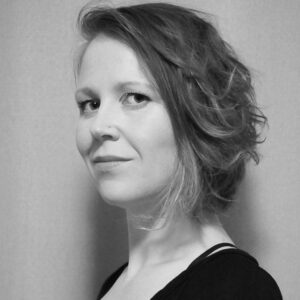 PRODUCTION DESIGN CREDITS: The Hobbit (CSTF), A Midsummer Nights Dream (CSTF), Romeo and Juliet (CSTF)
OF INTEREST: Tangle wears many hats: puppeteer, musician, actor, educator, mama and for this production: designer. She has built masks for 2 previous CSTF shows, and it has been a magical, if unusual, experience to help bring this fantastic world to life in these strange times. Tangle is one half of the whimsical musical puppetry duo Entangled Puppetry. With her husband, they perform eclectic and imaginative shows to enchant all ages both live and, more recently, online. She has played accordion in music videos about wildlife, danced across many stages and school gym floors dressed in a bear costume and roamed special events and marched in parades while towering on stilts. Tangle's passion for theatre has taken her from childhood community theatre stages thru a diploma in Musical Theatre to the fields of Bread and Puppet Theatre and back to the mountains and stages of Alberta where she makes her home with her sweet family in Canmore.
She is grateful to have had the chance to work with this exceptional, passionate and dedicated team who have been very supportive and patient with her. Special thanks to Heidi for her tireless efforts to fulfill many strange requests for the raw materials to bring Tangle's creations to life. Much love to her family who endured her absence as she toiled in her workroom and joined her for the occasional parade around the neighbourhood in a dragon costume.