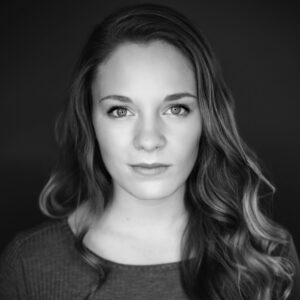 ASSISTANT DIRECTOR CREDITS: Minotaur (PTP)
ACTING CREDITS INCLUDE: Oz in We Will Rock You (North American Tour/Off-Broadway), Carmen Diaz in FAME! (Dubai Tour), Hope Cladwell in Urinetown, Cinderella in Cinderella, Cindy Lou in Marvellous Wonderettes (STF), Royal Caribbean Productions and many more!
OF INTEREST: Born and raised in the beautiful Bow Valley, Alysse is thrilled to be in town and working with the Canmore Summer Theatre Festival this year! Alysse is a graduate of Randolph College, and an international triple threat performer who always strives to find new ways to grow as an artist. Between contracts, you can find her baking up a storm, at any/every dog park in town, or hear her strumming up some new songs. Passionate, professional, and diligent with a dash of quirky, Alysse brings a vibrant air into the room and always strives to discover, grow and spark minds.